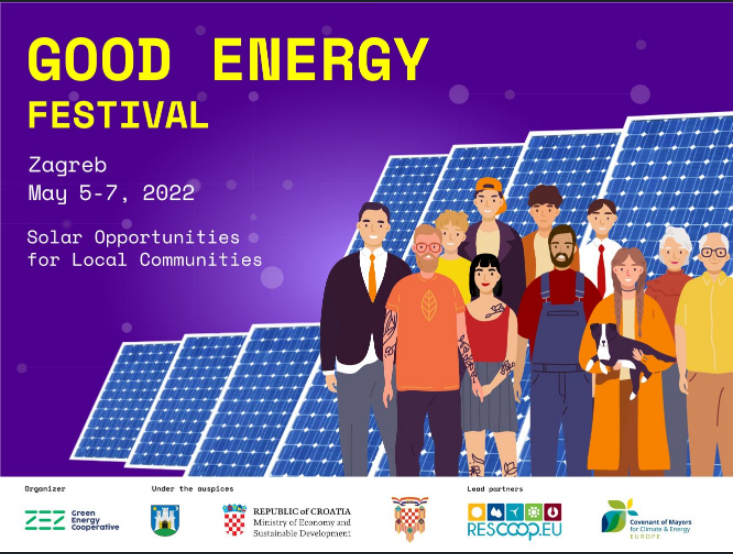 [I-NERGY] Good Energy Festival
Solar Opportunities for Local Communities
Good energy is clean energy produced by citizens and local communities from renewable sources. Such energy is also called community energy, and by installing your solar power plant or associating with fellow citizens through energy cooperatives and communities, its benefits are available to everyone. Then why don´t we put into good use?
In the midst of growing incentives for the use of solar energy, but also the energy crisis, the Green Energy Cooperative (ZEZ) raises this question through a new edition of the Good Energy event.
The program of the Good Energy is open to citizens, national and European civic energy initiatives, experts and practitioners in the field of renewable energy, representatives of public institutions and all other good energy enthusiasts.
Agenda
Day 5
10:00 – 13:00 Meeting of regional community energy initiatives
14:00 – 14:15 Opening remarks
14:15 – 14:45 Siward Zomer: Community energy in Europe – Netherlands
14:45 – 15:15 Dirk Vansintjan: The energy transition to energy democracy. Past, present, future
15:20 – 16:30 Solar energy vs energy crisis
16:30 – 17:00 Good Energy Break
17:00 – 18:30 Community energy initiatives – here they are!
20:15 – 23:00 Solar Cinema at Dolac: We the Power & The Odyssey
Day 6
11:00 -14:00 ZEZ & REScoop.eu – Workshop for community energy initiatives from Croatia and neighborung countries
15:00 – 16:30 Geek talk – Share your extra energy!
16:30 – 17:00 Good Energy Break
17:00 – 18:30 Stories from the solar rooftops
20:15 – 23:00 Solar Cinema at Dolac: We the Power & Woman at War
Day 7
11:00 – 13:00 Tour of Zagreb´s Solar Neighborhoods
Organize: Green Energy Cooperative
More info: Good Energy