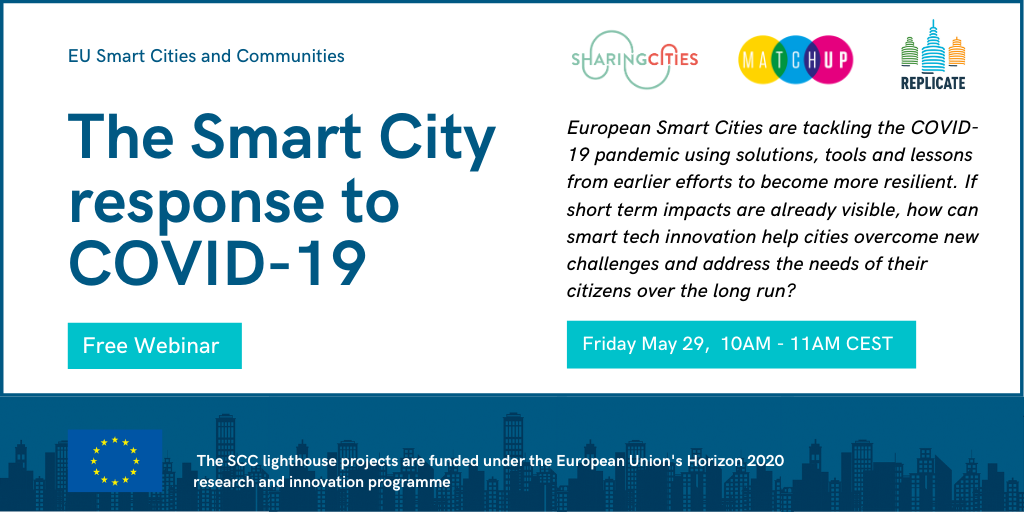 "SMART CITY RESPONSE TO COVID-19" webminar.
On May 29 an online conference entitled 'The Smart City response to COVID-19' will be held by the international projects Replicate, Sharing Cities and MatchUP. This last initiative has the participation of CARTIF.
The three projects will showcase ongoing experiences and lessons learnt linked to the pandemic situation that cities were (and still are) struggling with.
On behalf of MAtchUP, the coordinator Ernesto Faubel, representative of the Municipality of Valencia, will show the leading role of Valencia in the UN task force "Emergency response to COVID19" (for the news in Spanish visit here and here). Javier Ibañez from Las Naves will showcase the initiative 'Frena La Curva', a citizen cooperative-based platform to channel and organize social energy and civic resilience to the Covid-19 pandemic by providing a civil society response complementary to that of government and essential public services.
Sharing Cities will participate with the City of London and Replicate will present an Italian experience with the City of Florence.