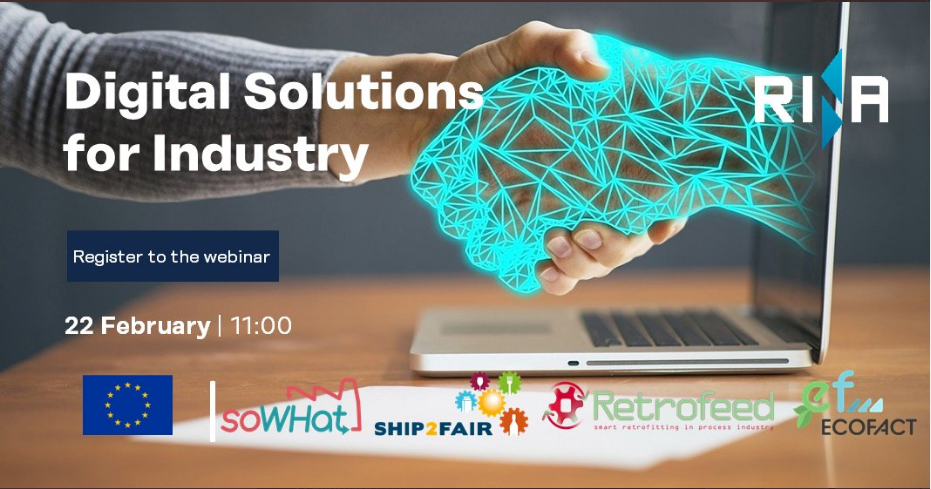 Webinar Digital Solutions for Industry-RINA
A webinar featuring innovations for more sustainable and efficient industrial processes and plants
The era of the fourth industrial revolution. An era of change towards new digital solutions for the simple and efficient management of processes and plants. Unlike the innovations of the previous industrial revolutions, however, this ones, in addition to the optimization of planning and management, focus on sustainable production pushing towards processes with a reduced environmental impact and greater energy efficiency and autonomy.
The objective of the webinar is to illustrate the recent innovative digtial solutions studied, used or developed in four different European research projects: SHIP2FAIR, SO WHAT, RETROFEED and ECOFACT, which tackle different steps of the value chain.
The webinar is open to all European and worldwide industrial players, as well as researchers, representatives of companies, associations, actors in the manufacturing sector.
Webinar Programme
11:00 – 11:10 Introduction- Stefano Barberis (RINA)
11:10 – 11:25 The SO WHAT Integrated Tool – Francesco Peccianti (RINA)
11:25 – 11:40 The SHIP2FAIR Replication Tool – Thomas Bolognesi (RINA)
11:40 – 11:55 Energy Audit in Times of Covid19: The RETROFEED experience – Giorgio Bonvicini (RINA)
11:55 – 12:10 The ECOFACT Platform – Francisco Morentin (CARTIF) and Iris Xhani (RINA)
12:10 – 12:25 Q&A
12:25 – 12:30 Conclusions – Iris Xhani (RINA)
Organize: RINA
More info: https://www.rina.org/en/media/events/2021/02/22/industry-digital-solutions