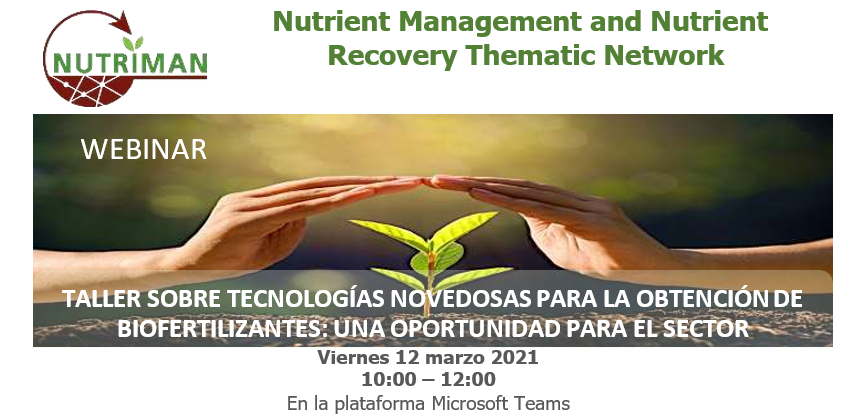 Webinar Nutrient Management and Nutrient Recovery Thematic Network
Workshop on novel Technologies for obtaining Biofertilizers: An oportunity for the sector
The primary sector dedicated to food production must adapt to the new policies, especially the new European regulation on fertilizer products and functional catwgories that will apply from 2022. Many producers of fertilizers and farmers are not aware of the content of this policy, its importance, meaning and the consequences for your industry in the short time as established in relation to Regulation (EU) 2019/1009 of the European Parliament and of the Council of June 5,2019.
If you are a supplier of innovative nitrogen and phosphorus recovery technologies ready to launch to the market, a fertilizers producer or a commercial that need to make products more visible. This workshop offers a huge opportunity to promote the commercialization of products even at European level.
If you are a farmer interested in knowing more about how the recovery of biological nitrogen and phosphate fertilizers can help your business, this workshop will provide huge amount of information about technologies for the recovery of nutrients  and biological fertilizers ready to be commercialized.
Workshop Programme
9:45-10:00 Participant login
10:00-10:10 NUTRIMAN project and farmers platform
10:10-10:25  What is Struvite?
10:11-10:45 Technologies for obtaining Struvite
10:45-11:00 Other technologies for obtaining biofertilizers
11:00-11:20 Results of some demonstrations trials in greenhouse and open field in crops vegetables made with selected products from the NUTRIMAN project – Dr.Federico Trucco (Turin University)
11:20-11:40 Debate and conclusions
Organizers: Centre of Tecnhology CARTIF and Depuración de Aguas del Mediterráneo
More information: CARTIF- dolhid@cartif.es (Dra. Dolores Hidalgo) / fraenc@cartif.es (Dr. Francisco Corona)
DAM- sofia.grau@dam-aguas.es (Sofia Grau)
More information about NUTRIMAN project: www.nutriman.net