TECHNOLOGICAL OFFER
Materials Laboratory
CARTIF Materials Testing Laboratory is an official supplier of AIRBUS as Test Lab (AFM-003-4), and is accredited under the most restricted quality requirements in aeronautical sector, such as AIRBUS, NADCAP and Spanish Accreditation Entity (ENAC accreditation 335/LE1276).

CARTIF Testing Lab offers a fast and effective service, adapted to customers needs, ensuring the test quality according to requirements of several quality systems and programs (AITM, ISO). Furthermore, Materials Laboratory has an extensive experience in the performance of testing of wide spectrum of non-metallic composite materials, adhesives, fiberglass, carbon fibre, peelable, paints, sealants, varnishes, resins, polymers and plastics, in diverse and strategic sectors, such as aeronautics, automotive, construction and textil, among others.

CARTIF Technology Centre has recently obtained the MERIT rating by the aeronautical manufacturer AIRBUS, thus recognizing the excellence, technical competence and high performance offered by the CARTIF Analysis and Testing Laboratory for the characterization of aeronautical products. Furthermore, the Laboratory has obtained this recognition by NADCAP, with the same qualification.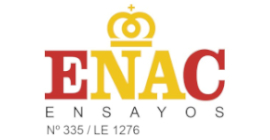 Note: test marked with * are not covered by ENAC accreditation
(Non Metallic Materials Testing)

Physico-chemical tests on non-metallic materials and composites
Determination of mass per unit area:

Carbon fibre preimpregnates, according to EN 2557:1997
Textile glass fibre preimpregnates, according to EN 2329:1996

Differential Scanning Calorimetry test (DSC) of non metallic material, according to AITM 3-0002:1995
Volatile content:

carbon fibre preimpregnates, according to EN 2558:1997
Textile glass fibre preimpregnates, according to EN 2330:1996

Resin and fibre content (prepeg Areal/Adhesive film weight):

Carbon fibre preimpregnates (solvent wash), according to EN 2559:1997
Textile glass fibre preimpregnates (fiber areal weight), according to EN 2331:1996
Peelable fabric and cooper mesh , according to internal procedure

Analysis of organic compounds by infrared spectroscopy (FTIR), according to AITM 3-0003:1995

Physico-mechanical tests on non-metallic materials and composites
Interlaminar Shear Strength test (ILSS) / Short Beam
Shear Method (SBS), según EN 2563:1997
Dynamic-Mechanical Analysis test (DMA), according to AITM 1-0003:2010
Interlaminar fracture toughness energy/Tenacity (G1C), according to AITM 1-0053
Single Lap Shear (ambient temperature), according to AITM 1-0019
Carbon fibre reinforced plastics. Unidirectional laminates . Tensile test parallel to the fibre direction, according to EN 2561 *
Flatwise traction, according to I+D-E 246 *
Intelaminar Shear Strength test (ILSS) / Short Beam
Shear Method (SBS), according to I+D+E 255 *
Peel metal -metal, according to EN 2243-2 *

Coating tests (resins, paints, varnishes y sealants)
Density, according to ISO 2811-1:2016
Flow time by use of flow cups, according to ISO 2431:2011