These 20 years of existence of CARTIF have coincided with a period very interesting from several points of view: historical, political, economic and technological, both in Spain and in the rest of the world. In the decade of the 90s, when CARTIF came into existence, Spain was going through a time of unprecedented bonanza: political stability, economic growth and global visibility. Good times to start an adventure like this: the creation of a technology center in a geographical region characterized by a low industrial profile.
This has always been a tenet in CARTIF: investing in the best human knowledge and in state-of-theart technological equipment.
From the very beginning, the small group of university professors that gave origin to this place knew that CARTIF had to become the bridge between knowledge (university) and companies. The main objective was to enhance the technological possibilities of companies located in Castilla y León region, to obtain the continuous improvement of their competitiveness to put research in the service of the needs of businesses and society as a whole was the expected result. That would be achieved by focusing on applied research, result-oriented, clearly adjusted to the real needs of final consumers of technology.
Given that CARTIF was driven by teachers from the Industrial Engineering School of Valladolid, whose main areas of expertise were automation, robotics and mechanical engineering, the capabilities of the Center were directed towards the development of new manufacturing systems and processes and to develop prototypes and techniques ready to be transferred to the industry.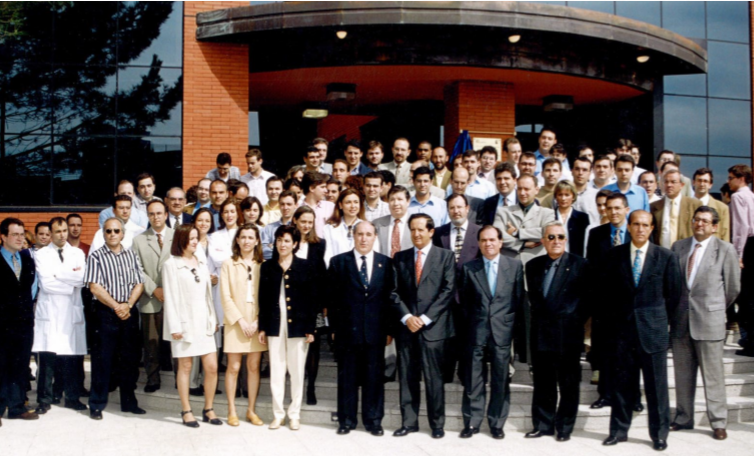 Just four years after its inception, the human team of CARTIF took advantage of the creation of Boecillo Technology Park and moved from the dependencies of UVA to a new building specifically designed for R&D. By 1999, the Center's staff was already over 100 people, and 4,500 m2 of the Center was occupied with the best equipment. This has always been a tenet in CARTIF: investing in the best human knowledge and in state-of-the-art technological equipment.
The structure of the Center was always a mixed model combining research center and business management. Researchers at CARTIF are characterized precisely for being very complete professionals, fully able to carry out real work while managing the financial and administration resources needed for project development, at the same time.
Internationalization
Therefore, the next step was taken in the obvious direction: internationalization. A new century began and with it, the DirectorateGeneral of CARTIF and its Board came together to create a department for International Projects with two scenarios of action: Latin America and the European Union. The first project came in 2001.
LIFE PROJECTS

CARTIF, European entity with more LIFE+ projects obtained and coordinated in 2012. In 2014, we have 10 ongoing projects, 8 coordinated
The following thirteen years saw the figure reach 103. The number of EU co-funded projects rose rapidly, so the Center will close the year 2014 with 31 projects, coordinating 13 of them. Good results, especially in energy and environment areas, have succeeded in bringing CARTIF to the stated goal in the first Strategic Plan: to be an international reference center.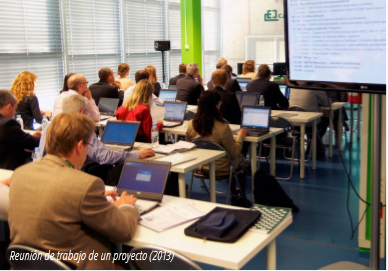 SMART CITY PROJECTS

R2CITIES

Countries: Spain, Italy, Turkey

M2 of constructed area subject to intervention: 57.000 m2

Reduction energy use: 60%

CITyFiED

Countries: Spain, Sweden, Turkey

Dwelling involved: 2.328

Beneficiary citizens: 7.000

REMOURBAN

Countries: Spain, UK, Turkey 1st Ligthouse Project in Spain

Dwelling involved: 1.100

Beneficiary citizens: 18.200

Electric vehicles: 150
Besides leading three major energy efficiency projects (including a Ligthouse project), one regarding the factories of the future and 10 LIFE projects, CARTIF participates in more than one score of organizations related to their lines of research; construction, infrastructure, energy, environment, industry, food, health and ICT. Another indicator of the importance of international affairs in the Center is that currently 19% of its workforce is involved in European projects. 
FACTORIES OF THE FUTURE

REEMAIN

Countries: Spain, Italy, Turkey

Facilities involved: 192.000 m2

Total production: 18.000Tm/year

Employees: 1.700
Research
Although the business orientation of projects was always clear, CARTIF has always carried out its own R&D through more than a dozen research lines. The continuous training of research staff made possible to expand technology related areas of work. Three initial working areas were soon followed by other: energy, chemical processes, environment, biomedical engineering, structure control and computational intelligence.
MISSION

to become an internationally renowned center for applied research, technological development and innovation in processes, products and systems, characterised by offering multidisciplinary integral solutions and the ability to anticipate the needs of society, university and the business world.
In this way, in the middle of the 2000s decade, CARTIF had tripled both its revenue and the number of projects carried out, and doubled both its staff and the volume of its facilities. With a team of 200 researchers, more than 120 national projects, 9,000 m2 of facilities and a turnover of more than 14 M€ per year, the prospects for the following years were excellent.
The economic crisis and the crisis in values that broke with force from 2008 onwards did stop that development and the prospects for further increase of workforce and facilities. However, six years later, CARTIF has managed to keep a sizable number of projects going on, compensating the decline in domestic demand with the European impetus. 
In fact, the past five years have seen the most ambitious projects to date being managed and launched, impressive both for economic return and for their dimensions and technological challenges. For this reason a third, bioclimatic and especially dedicated building to accommodate pilot plants on an industrial scale was built.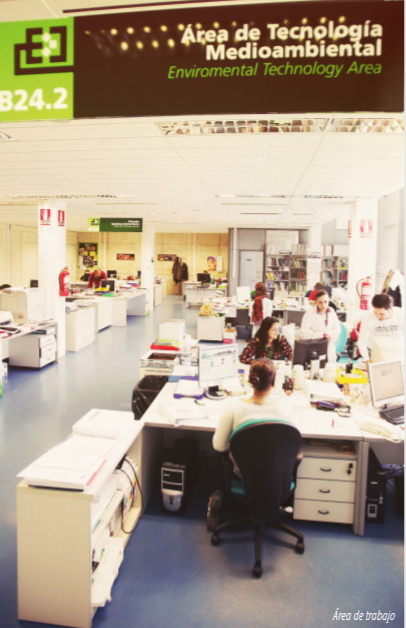 SCR
An important part of CARTIF is the sustainable management of resources and the environment. Therefore, since its inception, the Center has implemented internal management systems aimed at reducing energy consumption and generating less waste. In 2008, this was the first technology center in Spain to obtain a certification on Ecodesign. This certification means that CARTIF provides added value in their projects, ensuring product and production processes sustainability, taking into account its whole lifecycle, from conception and design stages up to disposal and/or recycling.
Even more, all three CARTIF buildings are equipped with the latest renewable energy technology. Geothermal, solar, wind and biomass sources of energy produce the power for facilities and equipment. The objective of a very low energy consumption building, 60 kw/h per m2 per year, is already a reality in these buildings.
Customers
Since its beginning, CARTIF has put itself to the service of the industry, being its premises to provide solutions, to solve problems, to innovate in processes and to achieve goals that may provide competitive advantage.
Throughout these decades, CARTIF has had more than 300 customers, counting on companies and institutions. Large corporations like Acciona, Iberdrola or Dragados, leading companies such as Gullón, Collosa, Gonvarri, Renault or Aciturri; public companies like Metro de Madrid, Adif, Renfe, SACYL or DGT; SMES with big ideas and a desire for starting projects like SEADM, Proingesa, Carburos Metálicos… All of them are a part of the Center history through more than 1,000 projects carried out. Some projects were long and complex, others were shorter and simpler, all of them equally important for the team of professionals forming CARTIF. Thanks to all of them for their confidence and encouragement, especially to those who took part in its Board.