Due to the importance of achieving a more sustainable food chain and achieving the transition towards a sustainable food system, IN-PACT project arises, within the framework of Green Deal and the Farm to Fork (F2F) strategy.
It is a collaborative project between JRC (EC) and CARTIF that aims to assess the current status of innovative practices carried out throughout the entire agri-food supply chain oriented to sustainability, why and how the operators of the agri-food supply chain undergo transformative and disruptive changes towards sustainability and towards the formulation of policies.
More specifically, this project aims to study three different aspects:
What are the main factors that drive/motivate to innovate and the main barriers that can be encountered along the way.
How do these changes occur in the agri-food system (individually, at the company level or collective level in collaboration with technological centers and universities, what are the characteristics of the different actors or links that participate in innovation and their underlying relationships, etc.).
What are the expected implications in terms of economic, environmental and social compensation.
Thanks to the results obtained, the project will provide the necessary evidence and knowledge for policies` formulation within the EC in the context of the Green Deal and the F2F strategy.
To achieve these objectives, a series of tasks have been carried out (Figure 1). From January to April 2021, a literature review has been developed in order to know the typology of the current and planned sustainable innovative practices among the operators of the agri-food supply chain, identify and provide an evaluation of the characteristics of the actors involved and their interactions, the drivers and the constraints and their impact on choosing sustainable innovative practices to know how to address them.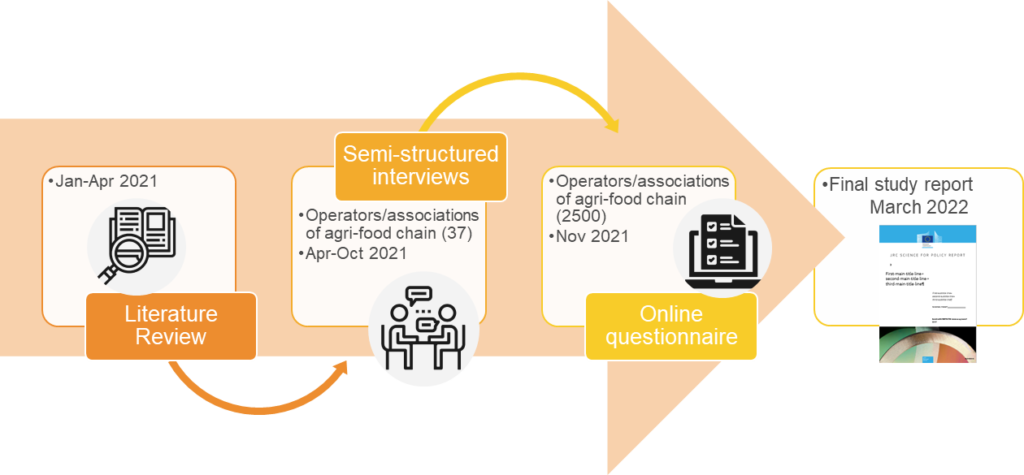 Once the subject had been studied, the research team working on the project began to carry out a series of semi-structured interviews with 37 operators in the agri-food supply chain: 25 private companies and 12 organizations representing the different sectors. The objective of this activity was to have a more realistic vision of the situation in which we find ourselves in terms of the development of innovative practices oriented to sustainability.
Currently, the project is in its final phase and for this reason, it has been prepared an online questionnaire, to find out the perspective of companies in the agri-food sector and representative organizations in terms of applied innovation in the search for sustainability in this area. The dissemination of this survey will also be done in collaboration with MADISON and through LINKEDIN and TWITTER channels (@EU_ScienceHub, @CARTIFCT ). Through this post we want to invite you to participate in the survey through the following link:
At the end of the study, a report will be prepared with all the results obtained that will be publicly available at the beginning of the year 2022.