STRATEGIC PROJECTS CENTRES COMPANIES
R&d PROGRAMMES
 PROGRAMES R&D
Strategic Projects Centres Companies
Financing of R&D projects in technology centers, in collaboration with companies, in order to promote research and knowledge transfer
The eligible budget for each project included in the application will be a minimum of € 100,000.00 and a maximum of € 2,000,000.00.
For the project to be considered eligible, it must be carried out in effective collaboration with at least two independent companies.
Projects in collaboration with companies in which the technology center participates directly or indirectly will not be eligible.
Each applicant entity may submit a maximum of 5 projects.

The projects will have a maximum duration of 3 years.

The subsidy percentage will be:
a) 65% for Industrial Research projects.
b) 40% for experimental development projects.
c) When 3 companies participate in the project, it will have an additional 5%, and when four or more companies participate, it will have an additional 10%.
d) In all cases, there will be an additional 5% for those projects that, applying the evaluation criteria, exceed 60 points.
CARTIF participation
Cartif has been participating in the R&D financing programme of the Junta de Castilla y León since its inception, through the development of technology to companies and supporting the placing on the market of the technologies developed.
CARTIF, as a technological centre regulated by RD 2093/2008, must ensure that at least 30% of its turnover comes from private companies' funds. That is why the financing of the Castilla y León Institute of Business Competitiveness is a boost to achieve compliance with this indicator.
The Centre has collaborated with companies from countless sectors, contributing to the improvement of their competitiveness, giving greater value to their processes and products.
Details of thematic priorities: Areas of activity.
Priority 1: Agri-food and natural resources as catalysts for the extension of innovation over the territory
Short description:
Area 1.1: R + D + I in Agriculture
Area 1.2: R + D + I in Livestock and Aquaculture
Area 1.3: R + D + I in Food
Area 1.4: R + D + I in Bioenergy and Bioproducts
Area 1.5: R + D + I in Forest Management
Priority 2: Productive efficiency in transport sectors such as Automotive and Aeronautics, making materials and components the keys to leadership and sustainability
Short description:
Area 2.1: R + D + I in Sustainability
Area 2.2: R + D + I in Security
Area 2.3: R + D + I in Mobility
Area 2.4: R + D + I in Design and Manufacturing
Area 2.5: R + D + I in Vehicle Electronics
Priority 3: Application of knowledge and technology in Health and Social Care, Demographic Change and Well-being, to improve the quality of life of citizens
Short description:
Area 3.1 Cancer research and new diagnostic and therapeutic solutions
Area 3.2: Biomedical research on priority problems
Area 3.3: Improvement of care for chronic and / or dependent patients
Area 3.4: Technologies for Social Inclusion
Priority 4: Natural Heritage, Cultural Heritage and Spanish Language, endogenous resources base of territorial sustainability
Short description:
Area 4.1: Cultural Heritage
Area 4.2: Environmental sustainability
Area 4.3: Culture and Spanish Language
Priority 5: R&D in Information and Communication Technologies, Energy and Sustainability for regional global competitiveness based on the transversality of technologies and knowledge
Short description:
Area 5.1: ICT
Domain 5.2: Energy
Area 5.3: Sustainable Technologies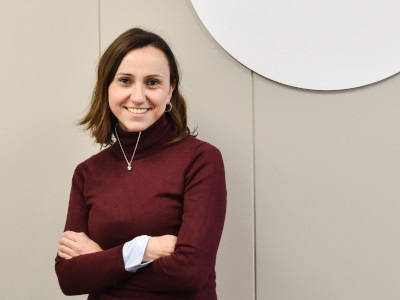 Irene Hompanera Velasco
Programs Department
irehom@cartif.es