Nature Based Solutions (NBS)
The NBS-Lab project research on the functional use of natural resources to solve environmental problems arising from current climate change and ecosystem deterioration of urban and peri-urban areas.
The project seeks competitive positioning of regional companies in the field of Nature Based Solutions (NBS). Advancing existing technologies to address urban environmental problems, Castilla y León region serves as a pioneer lab in the implementation of measures that fight climate change and deterioration of urban and peri-urban ecosystems.
Industrial Research that seeks to validate generic NBS technologies and design, implement and test new technical and technological improvements, a living-lab in the field of NBS.
Objectives
The broad objective of the Project is to research Nature-Based Solutions (NBS) as a way of adaption and mitigation the effects of climate change, as well as the use of natural resources capable of functioning as NBS and contributing to the generation of bio-economy processes in the Region. This aim will be pursued through the study and evaluation of new NBS functionalities and their integration.
Actions
Research on nature-based bio-economy solutions to deal environmental challenges in urban, peri-urban and rural areas.
Analyse, describe and determine the multiple benefits of NBS on human health, lifestyle, well-being and social inclusion.
New business models to study the potential of research and orient functionality analyses to market needs.
Establish techniques to maintain and improve biodiversity.
Expected results
Working in natural pollutant emission purification systems.
To work on natural urban wastewater treatment systems (black – grey).
To work on sustainable natural drainage systems in urban environments.
Working on innovative natural systems of Green Infrastructures to improve urban welfare and biodiversity.
Working on integrated soil improvement systems (urban and agro-forestry).
To work on the synergies derived of the different NBSs evaluated.
Strategic Projects Centres Companies
CCTT1/17/VA/002
Total budget: 809.054,92 €
Grant awarded: 606.791,19 €
Duration: january 2018 – september 2020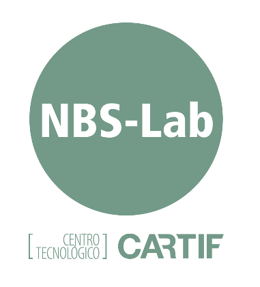 Raúl Sánchez
Division of Agrifood and Processes
rausan@cartif.es
Environment & climate projects: