CARTIF PROJECTS
HPCONGRID
Hybrid generation plant controller
HPC Ongrid project collaborates with Siemens Gamesa Renewable Energy (SGRE) in the develop and programming of different components of a hybrid generation plant controller. The controller is designed and owned by SGRE who is responsible of the specifications a control strategies definition. CARTIF collaborates in the programming tasks of some of the algorithms and also in developing simulation models for the control validation previous to its real deployment in the plant.
Objectives
To programm functions and algorithms to be integrated in the Hybrid Plant Controller of Siemens Gamesa Renewable Energy according to their specifications.
To develop simulation models of hybrid power plants –isolated and grid connected- for the functional validation of the control algorithms.
Expected results
Hybrid Power Plant controller according to the defined goals and strategies of Siemens Gamesa Renewable Energy.
TRNSYS and Simulink models of a hybrid power plant.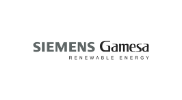 Programa
Overall budget: 208.500,00 €
Duration: 09/2015-12/2019
Sergio Saludes Rodil
Division of Energy

sersal@cartif.es