Technology to produce sustainable aviation and maritime fuels
BioSFerA aims to develop a cost-effective interdisciplinary technology to produce sustainable aviation and maritime fuels. The overall process, combining thermochemical, biological and thermocatalytic parts is based on the gasification of biomass and other biogenic waste and the 2-stage fermentation of the produced syngas. Through this process the syngas is converted to acetate (1st stage) and then the acetate is converted to TAGs (2nd stage). The produced TAGs contained medium and long fatty acids are hydrotreated and isomerized after the necessary separation and purification and the end-products are jet- and bunker-like biofuels, respectively. BioSFerA aims to evolve the proposed technology from TRL3 to TRL5.
Objectives
Optimization of flexible DGB process for a gas fermentation unit improving conversion and cost efficiency.

Construction of microbial strains for acetate production from syngas and lipids from acetate.

Determination of the optimum conditions of the novel process at pilot level.

Verification of produced hydrocarbons compatibility with aviation and marine standards for drop-in fuels.

Develop a versatile value chain for profitable investments around Europe.
Actions
Definition of value chain requirements (feedstock selection and fuel characterization).

Lab scale biological tests (optimization of gas and liquid fermentation processes).

Pilot scale process validation (modification and integration of units, execution of piloting runs at TRL5).

Lipids upgrading, final products characterization and quality control.

Full chain process model at commercial scale.
Expected results
BioSFerA as a fuel for aviation and maritime sectors (> two barrels to be produced).

 Integration of gasifier with 2-step biological plant and validation at pilot scale (500h operation).

 Production of advanced engineered bacterial and yeast strains.

 High conversion rates towards targeted drop-in biofuels.

 High performance operation with almost any available biogenic feedstock in EU area.

 Drop-in fuel to feed energy ratio >40% and GHG emissions reduction >40%.
H2020
H2020-LC-SC3-2019-NZE-RES-CC

Total budget: 4 998 653,75 €
EC contribution: 4 998 653,75 €
Duration: 01/04/2020 – 31/03/2024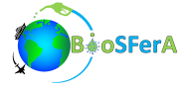 José Mª Sanz
Division of Agrifood and Processes
josmar@cartif.es