Advanced chemicals production from biogenic CO2 emissions for circular bio-based industries
CO2SMOS project propose an innovative solution to develop new technologies based on processes for the conversion of biogenic CO2 and renewable raw materials into high value-added (bio)chemical products for chemistry sector and bio-based industries. For this purpose, is set as an objective to develop an integrated platform of technologies that combine innovative processes of biotechnology, electrochemistry and cathalytic base, supported in the use of renewable sources and green hydrogen for its application on the development of new polymers of high benefits, biodegradable materials and/or biocompostable, contributing to the improvement of the competitivity and sustainability of the sector, through decarbonization and development of high benefits materials.
Objectives
Development of new technologies for the CO2 conversion into high added-value chemistry products.
Development of new bio-products and design of an integrated process with zero green house emissions for tis application on the bio-based industries value-chain.
Creation of new business models and value chains on the chemistry sector and bio-industries based on the capture and utilisation of biogenic CO2 to obtain consume products.
Improvement of the technological competitivity and sustainability of bio-based industries and chemistry sector.
Integration of green hydrogen on the value chain of the chemistry and bio-based industry.
Actions
Technical, financial and administrative coordination of the project.
Development of bioprocesses and bioproducts: gas-fermentation of CO2/H2 and synthesis gas for the obtention of C2-C4 chemistry procuts. 
Dvelopment of bioprocesses and bioproducts: aerobic bioacetate fermentation and alternative sustrates for the obtention of high added value products.
Techno-economical analysis, possible replicability and transference to the industrial sector.
Support on the implementation of dissemination and communication plan.
Expected results
Correct technical and financial deimplementation of the project. 
New advanced CO2/H2 fermentation-gas bioprocess and synthesis gas for acetate and butanediol production
New fermentation bioprocess on liquid phase for the obtention of polyhydroxyalkanoate.
Preliminary techno-economic feasibility study of new CO2 conversion processes and technologies.
Scientific and technical publications, conference papers, potential patents.
R&D Line
Advance fermentation process development (with sustrate in liguid and/or gas phase).
Research in thermochemical processes and intensification of pressure processes for the transformation of plastics, biomasses and recalcitrant waste into value-added products.
Development of bio-based materials with applications in adhesive polymers and coatings with special properties.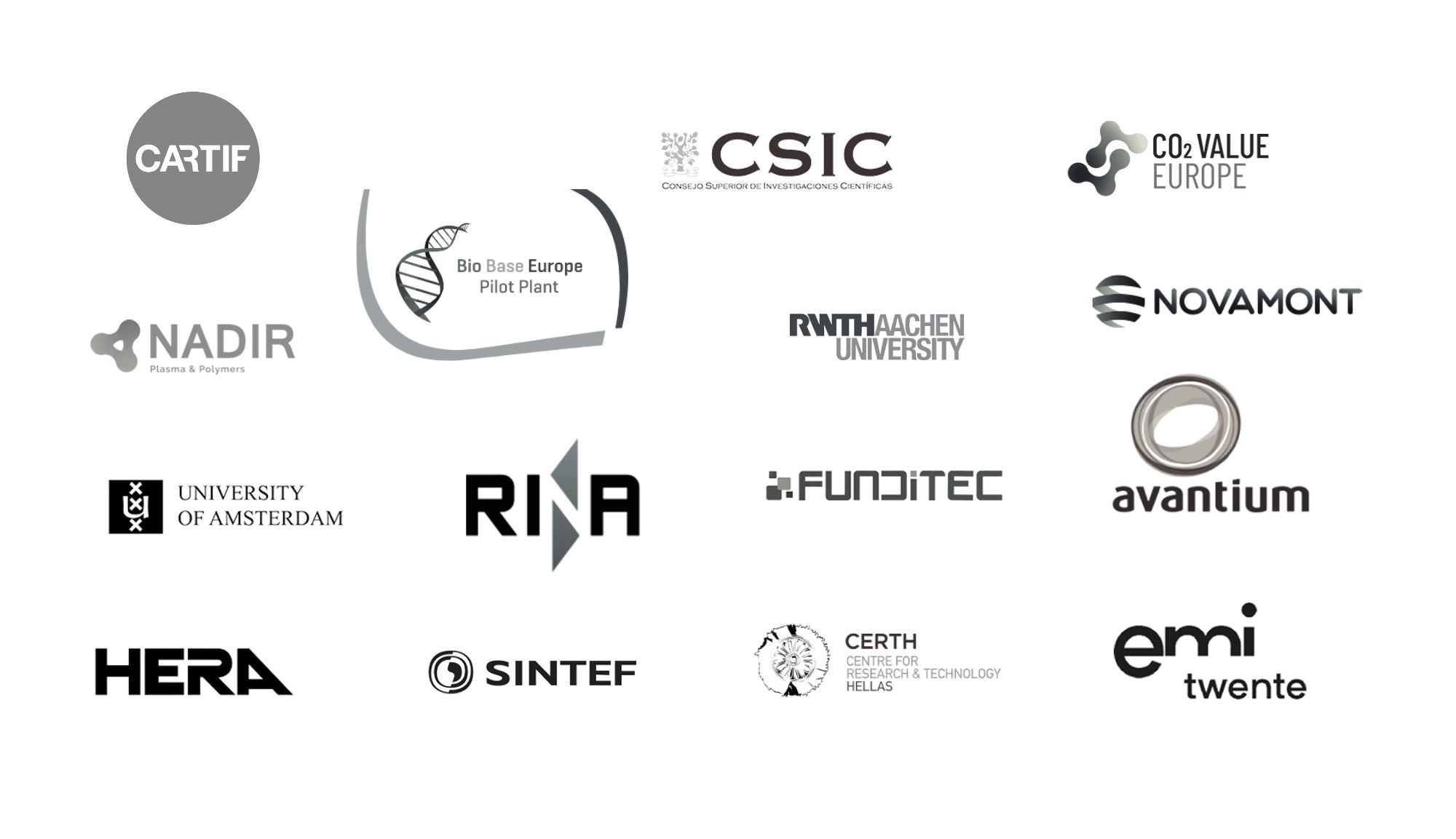 H2020
GA 101000790

Total Budget: 6,918,240 €
CARTIF Budget: 855,000 €
Duration: 01/05/2021 – 30/04/2025

Desirée Durán Martín
Agrifood and Processes Division
desdur@cartif.es
The project focuses on the development of an integrated process for the production of green hydrogen and hydrogen carrier molecules (energy carriers) for use as renewable fuels to replace current fossil fuels.
read more