Conservation of Infrastructures based on Computational Intelligence
The CIBIC project ("Conservation of infrastructures based on Computational Intelligence") arises with the objective of improving the services provided by the companies of conservation of infrastructures, based on the application of new technologies to carry out the concept of intelligent systems that will help to improve the quality and the innovation of these services. This project was funded with FEDEER funds by MINECO.
Through the application of Computational Intelligence techniques, the aim is to put into value the information, knowledge and experience that companies in the sector have accumulated over time, and which is not systematically exploited for many reasons.
Objectives
Apply technologies based on Computer Science and ICT to the domain of maintenance and conservation of transport infrastructure, in order to formalize the existing experience and knowledge as a result of the years of activity.
Reduce the costs of maintenance operations and increase the lifetime of the infrastructure
Generate a competitive advantage that allows to improve products and services through an improvement of their efficiency.
Actions
Collect and formalize existing knowledge, from different points of view, about the conservation of infrastructure (roads and railways).
Detection and classification of evolutionary and/or abrupt failures that affect the use of the infrastructure and/or its safety.
Decision Support System: preventive an reactive maintenance, depending on the estimated behavior and/or known status of the infrastructure.
Expected Results
Models of evolution and behavior of infrastructures and their elements on which to apply methods of data mining. Once infrastructure evolution is known, it is possible to foresee deteriorations or failures that may be generated, as well as the maintenance operations to be carried out.
Feasibility of applying Computational Intelligence techniques to the field of railway infrastructure maintenance, identifying some of the most appropriate techniques.
P.N. Investigación Aplicada Colaborativa 2009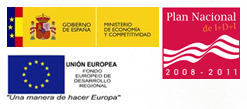 Overall budget: 597.894,60 €
CARTIF Grant: 450.284,70 €
Duration: May 2009 – December 2010
Marta Galende
Industrial and Digital Systems Division
margal@cartif.es
PhotonHub Europe is the unique european Hub (DIH) in photonic that integrates the best technologies, facilities and knowledge in photonics as well as the experience of 53 partners of all Europe. The result is the creation of a unique window that offers a huge variety of support resources for industry to accelerate the integration of photonic in its products and processes.
read more