Smart energy management and aid in the operation of district heat and cold networks
The objective of the GIRTER project is the development of an intelligent energy management tool for district heating and cooling networks, which based on adequate monitoring and the application of dynamic simulation techniques, optimize the operation of the generation systems and maximize integration from sources of renewable generation and the use of residual heats from nearby processes.
This will be based on the availability of the energetic resources, a prediction of the demand of the users of the district based on simulation and renewable production, which optimizes the control decisions taking into account the status and operating costs of the equipment auxiliary support distributed at each supply point.
Objectives
Development of a demand prediction service, based on customer characteristics and weather conditions.
Development of simplified models of buildings and generation systems.
Development of smart thermal network management strategies, which establish the optimum temperature and mode of operation of the network.
Development of a heat generation management device.
Establishment of the instrumentation and open communication protocols of the different ring elements necessary for intelligent management.
Actions
Development of simplified models for the characterization of demand, energy generation and distribution systems..
Development of strategies and a device for the management of Intelligent Thermal Networks.
Development of monitoring and control infrastructure.
Proof of concept and validation of the prototype in demonstration pilots.
Expected results
Intelligent management system for district thermal networks with polygeneration.
Operation algorithms based on simplified models of buildings and generation systems.
Optimization of energy consumption in the operation of thermal networks.
Retos-Colaboración 2016
RTC-2016-5800-3

CARTIF Total Budget: 144,669.35€
CARTIF grant: 128,963.63 €
Duration: oct/2016 – dic/2019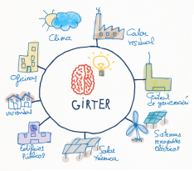 Jesús Samaniego
Division of Energy
jessam@cartif.es