CARTIF PROJECTS
DISCOBOLO
Perfection of hot and cold lamination
The DISCOBOLO project, "Identifying Disc of Defects in Active Surfaces", was co-financed by the Ministry of Economy and Competitiveness, through the 2016 COLLABORATION CHALLENGES call. The consortium of the project is formed by CARTIF, ISEND, RUGUI and Tremefil-Izaguirre.
Nowadays in hot and cold lamination of "long" elements only the detection of punctual defects are made, not longitudinal defects. Therefore, the technological leap and the differentiating key of future products is to detect both, punctual and longitudinal defects on the production of flat steel in the rolling process, either the cold or hot process.
Objectives
The main objective of the project is the detection of punctual and longitudinal defects on the production of flat steel in the rolling process, whether the process is cold or hot by induced currents.
The strategic objective was to develop products that enhance quality, efficiency and business competitiveness within the steel sector, providing them with innovative tools that are key to commercial success in both, the national and international markets, within the steel sector.
Actions
Two prototypes have been developed, one for each lamination process (cold and hot lamination). Both teams are based on the detection by means of induced currents and a flat rotating disk that detects and classifies the surface defects of the flat product, to detect both point and longitudinal defects.
Expected Results
Detection of defects, detecting the different classes of existing defects and classifying existing defects on the surface of the flat product.
Reduction of the costs derived from quality control systems which can eliminate any defective product. The system only detect the defects without repairing it, to use it in products which can meet less demanding specifications.
Offer a high added value rolling train maintenance service for induced current inspection systems, since the production inspection system can be used to detect anomalies in the rolling train.
Elimination of any cold inspection after hot rolling, this type of inspection being out of line it can be very expensive.
COLLABORATION CHALLENGES
RTC-2016-4689-5

Total budget: 275.410,48 €
Grant received: 268.485,42 €
Duration: 2016 – 2019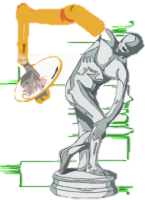 Carlos Barriga Navarro
Industrial solutions area researcher
Industrial and Digital Systems Division
carbar@cartif.es
Circular Economy Projects:
The general objective of ECLOSION is the research and development of new solutions at a pilot plant scale at a laboratory level for the generation, management and usage of green hydrogen and biomethane using bioresidues as abundant resources of quality in a stable and affordable mode.
read more