CARTIF PROJECTS
LIFE REFIBRE
High-value asphalt pavements with fiberglass derived from the sustainable recycling of wind turbine blades
Spain is the second European country and the fourth worldwide country with more wind turbines implanted, which represent an amount of 142,000 glass fibre tons (2015). In Europe, the amount of glass fibres in wind turbine blades exceeds 766,000 tons.
LIFE REFIBRE is proposed to solve the environmental problem that supposes the accumulation of a huge amount of wind turbine blades waste in landfills.
LIFE REFIBRE project will comply with environmental policies and priorities of the European Union through the implementation of Directive 2008/98/EC on waste management, reduction its discharge and increasing recycling in a more environmentally sustainable way.
Objectives
Promote the integrated management of glass fibre reinforced plastic waste (GFRP).

Incorporating the glass fibre valorised in asphalt mixtures increased their mechanical properties.

Close the life cycle of this waste, giving a high added value to both waste and the new glass fibre application.
Actions
LIFE REFIBRE main task are:
Collection, logistic and pre treatment of wind turbine blades waste.
Design and construction of the recycling of the blade waste prototype.
Incorporation of recycled glass fibres into the asphalt agglomerate.
Construction of the road demonstration sections.
Feasibility study of industrial implementation.
Expected results
Design and construction of an innovative prototype for the mechanical recycling of wind turbine blades.

Obtaining 23 t of recycled glass fibre with a size less than 2 cm and optimal properties for later application.

Construction of 12.000 m2 surface road section (1,5 km) with different percentages of glass fibre added (0,5-1,5%).

Improvement of the mechanical properties of the demonstrator road section.
Video presenttion of the project:
LIFE PROGRAMME
LIFE16 ENV/ES/000192
Total budget:1,789,539 €
European Contribution: 60%
Duration: 01/10/2017 – 30/09/2020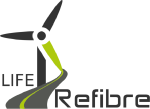 Alicia Aguado Pesquera
Division of Agrifood and Processes
aliagu@cartif.es
Circular Economy projects:
BATERURGIA "research into advanced recycling technologies for obtaining strategic metals from EV batteries", aims to respond to the challenges posed by the recycling of LIBs and provide knowledge to solve the problems arising from the recovery and selective separation of critical metals to facilitate their use in the manufacture of new batteries or to replace conventional raw materials and introduce them into other production sectors as alternative raw materials. 
read more